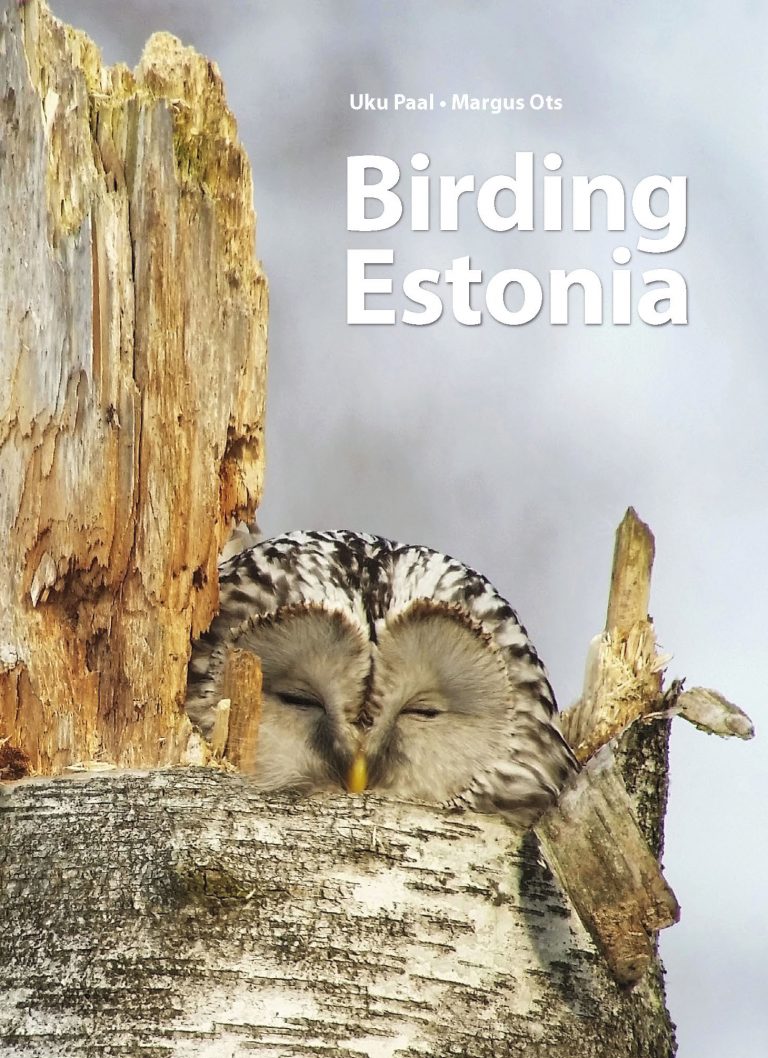 Birding Estonia
Uku Paal, Margus Ots
2018 • ISBN 978-9949-460-28-1
136 pp. 150 × 205 mm
Available at our office (14,99€)
Birding Estonia provides the most comprehensive information on the best birding sites across Estonia and the best times to visit, as well as including advice for finding northern and eastern specialities like Lesser Spotted Eagle, Hazel Grouse, lekking Great Snipe, Ural Owl and White-backed Woodpecker.
Birding Estonia:
The first comprehensive guide to birdwatching in Estonia written by local experts
Includes travel info, birding calendar and short overview of birding habitats
Covers the best times to visit and lists the best species of 106 areas across the whole country, including all five National Parks
68 maps with GPS coordinates making it easier to find those important locations
Recommends trip itineraries to see migration, certain species, or certain areas of the country throughout the year
Fully updated and annotated Estonian checklist, with notes on occurrence, abundance and phenology
Estonia has become one of Europe's best destinations for birdwatchers. More than 200 species breed there, and highly concentrated spring and autumn migration of Arctic wildfowl and waders occurs along its coast.
It is the smallest and least populated of the three Baltic states – about 40% is covered by forest, there are many large bogs, areas of relatively low intensity mosaic farmland, and a diverse coastline with nearly 1,000 islets – all of which provide perfect habitats for wildlife. About 10% of the country is protected for conservation purposes, and most of these superb National Parks and reserves are easily accessible.
---
---
About authors
Uku Paal is an Estonian freelance ornithologist and tour guide from Tartu. He is a long-time member of the Estonian Rarities Committee, has a keen interest in bird ringing, photography, field surveying, and identification. He is a founding member of Estbirding – the Estonian Birders' Club.
Margus Ots is an Estonian ornithologist. He is the long-time chairman of the Estonian Rarities Committee, and since 2018 chairman of the Estonian Ornithological Society / Birdlife Estonia. Margus is an avid bird ringer and a founding member of Estbirding – the Estonian Birders' Club.
Kokkuvõte / Summary in Estonian
Eestis pesitseb üle kahesaja linnuliigi, rannikule koondub arktiliste veelindude ning kahlajate sügis- ja kevadränne – Eestist on saanud Euroopa üks külastatumaid linnuvaatlemise sihtkohti.
Eelkõige linnuvaatlejatele ja loodushuviga reisijatele suunatud "Birding Estonia" on esimene põhjalik Eesti parimaid linnualasid käsitlev raamat. See sisaldab üksikasjalikku teavet 106 Eesti parima linnuvaatluskoha, seal vaadeldavate võimalike liikide ning külastusaegade kohta. 68 GPS koordinaatide ja detailsete juhistega varustatud illustratiivset kaarti ning autorite poolt välja pakutud reisimarsruudid hõlbustavad linnuvaatlusretke kavandamist nii algajal kui ka kogenud huvilisel.
Raamatust leiab nõuandeid ka rände, huvipakkuva piirkonna ning mitmete Põhja- ja Ida-Euroopa liikide (näiteks väike-konnakotka, laanepüü, rohunepi, händkaku, valgeselg-kirjurähni) vaatlemiseks. Raamatu lõpus on ajakohane Eesti linnuliikide nimistu koos täpsustustega leviku, arvukuse ja fenoloogia kohta.
Raamatus olevad asjatundlikud kirjeldused, tähelepanekud ja läbimõeldult koostatud juhendid põhinevad autorite pikaajalisel linnuvaatlemise, rõngastamise, väliornitoloogia ning loodusfotograafiaga tegelemisest ja retkede juhendamisest saadud kogemusel.
Autorid
Uku Paal on vabakutseline ornitoloog ja loodusgiid, Eesti linnuharulduste komisjoni pikaajaline liige.
Margus Ots on ornitoloog, Eesti linnuharulduste komisjoni pikaajaline esimees ja alates 2018. aastast Eesti Ornitoloogiaühingu (Birdlife Estonia) juhataja.
Autorid on ka Eesti ning välismaa linnuvaatlejaid koondava klubi Estbirding asutajaliikmed.